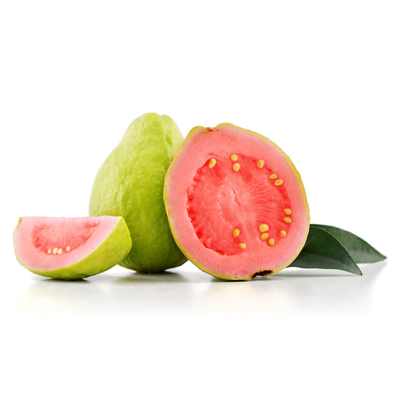 GUAVA
(Psidium guajava)
Guava are a round, oval or pear-shaped sub-tropical fruit. They have thin yellow or green skin and hard, slightly granular and very fragrant pink, yellow or salmon-coloured flesh that contains edible seeds.
The seeds of some varieties of guava are too hard to eat. Brazilian guavas, sweet and fragant, are not only delicious but also contain more vitamin C than most citrus fruits. Its average weight ranges from 120 to 150gr per piece. Peel and seed guavas before lightly cooking them and adding to ice creams, sorbets, fools or chilled soufflés. The flesh quickly disintegrates when cooked.
Guava taste good with lime, cream or custard. Add to tropical fruit salads but test the seeds first - if they're not too hard, you can leave them in. It is not necessary to peel and seed guavas for use in jelly or fruit cheese.
• Shipped: By Air
Guava (Pink) and Guava (White) All over the year
JAN
FEB
MAR
APR
MAY
JUN
JUL
AUG
SEP
OCT
NOV
DEC